Have you ever wondered
HOW
Google works? The folks over at PPC Blog created this great visual to show how Google interacts with a website and determines the relevancy of a website based upon Google's proprietary Algorithm. NO one knows exactly what this Algorithm is. Most SEO consultants follow industry news, patent filings and perform tests to find the latest best SEO practices.
The mystery and constant learning is what not only makes the SEO industry so exciting, but difficult for non-SEO professionals to learn and keep track of. The industry is highly dynamic and constantly changing. On the flip side this constant change is also the reason why there is such a divide between "OK" and "Great" SEO consultants. Unless your SEO consultant is constantly monitoring and testing current Search Engine Algorithms chances are good they are not using up to date methods. Another problem with SEO consultants is burnout. Because of the constant change, many get frustrated and drop out of the business for an easier job.
A huge misconception is that SEO is easy. Countless website companies offer SEO services. However, they often get less than desirable results because they specialize in website design aspects other than SEO. The graphic below shows how Google finds and interprets your website's data. It also serves as a excellent illustration (I can never resist a pun) of how many different area's SEO covers in relation to Search Engines.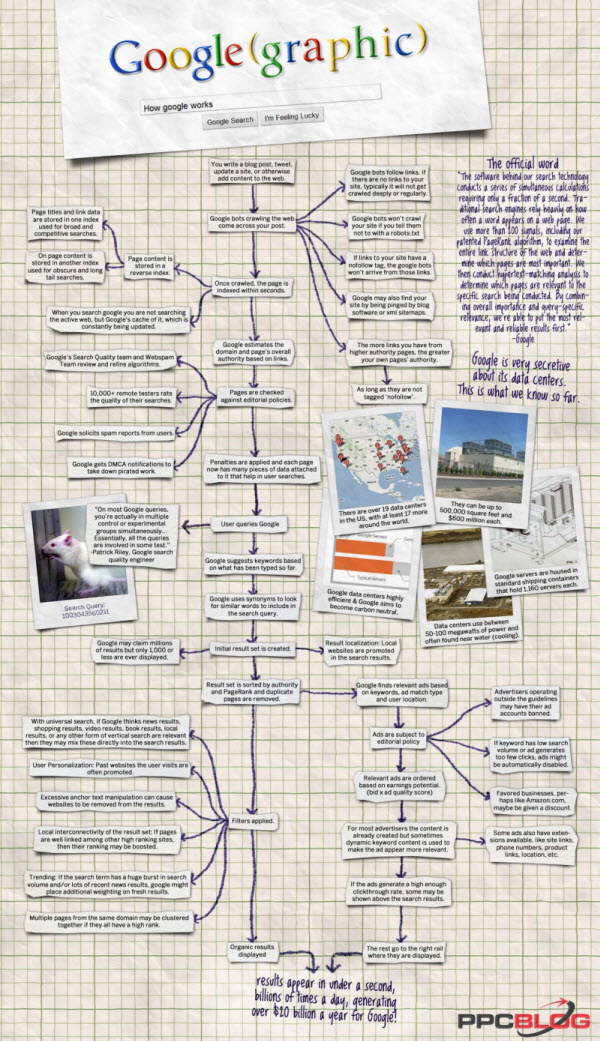 Infographic by the Pay Per Click Blog